SwingTown was formed in 1993 by Dave Eastly and Dave Wells, after seeing a need for a band that combined big-band swing with popular R&B, disco, and rock & roll dance music. They assembled some of the finest musicians in town that actually liked each other, and wanted to bring a sense of FUN to the party.  After building a following at Newport Beach night clubs, and developing the bands "chemistry", SwingTown became the acclaimed ensemble of today.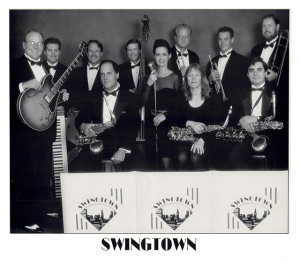 Members of SwingTown have played with such notables as: Woody Herman, Maynard Fergusen, Paul Anka, Frank Sinatra, Diana Ross, Buddy Rich, Tower of  Power, The Disneyland Band, and The Brian Setzer Orchestra.
SwingTown performs in formal attire, embroidered bowling shirts, or  "swing threads", with dance-band fronts emblazoned with our fabulous logo. SwingTown can be self-con-tained, providing lights, a sound system, and break music. SwingTown can be seen regularly at Disneyland's "Royal Theater Stage".
Please call or e-mail SwingTown today and let us help make your event one to remember.